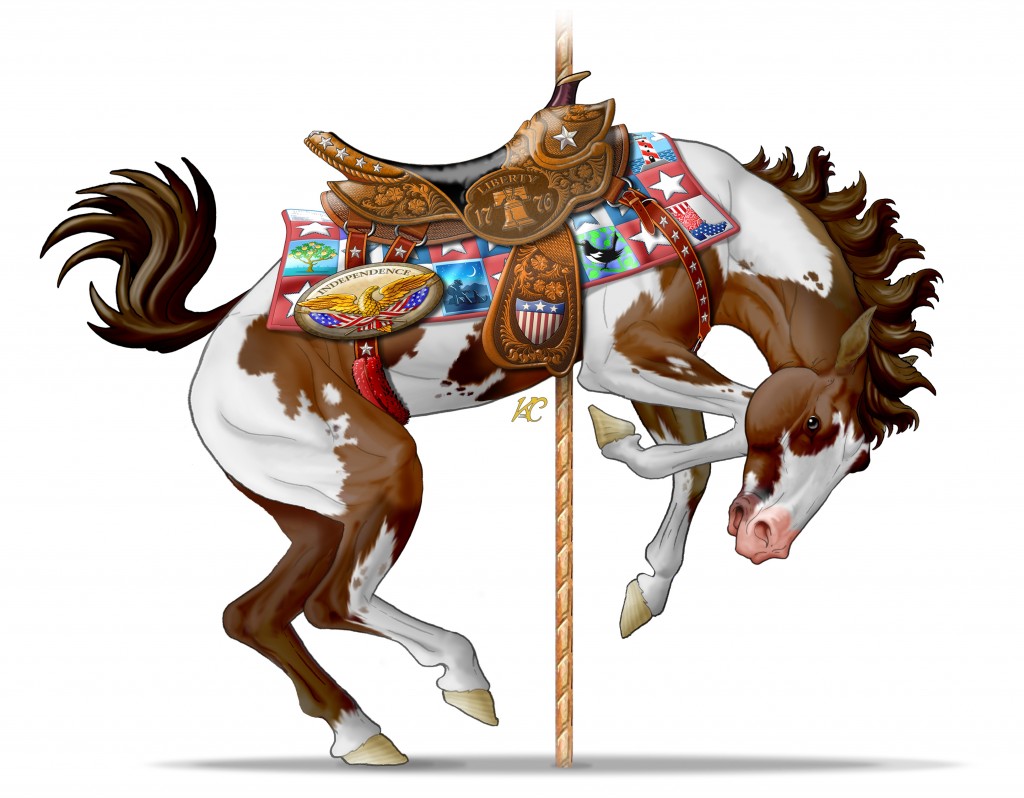 Buck, the Horse
Sponsored by
Harry Lagerstedt
Buck, the carousel horse, is dedicated to Carol Bellon Lagerstedt and was sponsored by her husband Harry. Buck was also a real wild horse that was broken to saddle by Carol's father, Xavier Bellon, a cattleman in southern Utah. Carol grew up with stories about Buck, who later became a famous cutting horse.

Carol and Harry were married for 59 years before cancer took her in 2011, at age 80. They have four daughters and one son. Carol grew up in Roosevelt, UT and graduated from Utah State University with a degree in Home Economics. She taught Home Economics at Eddyville High School for several years, and then became a fantastic homemaker, caring for her growing family.

Carol was an accomplished seamstress and made clothes for all the children throughout grade and high school. She made hundreds of quilts and held quilting classes for friends and church members. Thus, Buck's saddle blanket is a quilt and the squares of the quilt display some of her other interests:

• Carol's favorite bird, a Magpie, which was very common where she grew up.

• A Christmas tree represents the Christmas tree farm we owned.

• A peach and a filbert represent the orchards that we planted, pruned, and cultivated, and the fruit and nuts we harvested, sorted, and sold. Roasted filberts and filbert brittle were some of her specialties. She made many different kinds of candies and chocolates and held yearly candy making classes.

• A canning jar depicts all the many fruits and vegetables that she canned and froze each year.

• One square depicts a crossword puzzle, a challenge Carol enjoyed almost every morning during breakfast. This crossword puzzle contains all our family names.

• A quill pen represents Carol's many years of service to the LDS Church. With no background in French, she mastered French genealogical record extraction, which involves deciphering centuries-old French church records, which had been written with quill pens by many different scribes.